About Orthodoxy Now!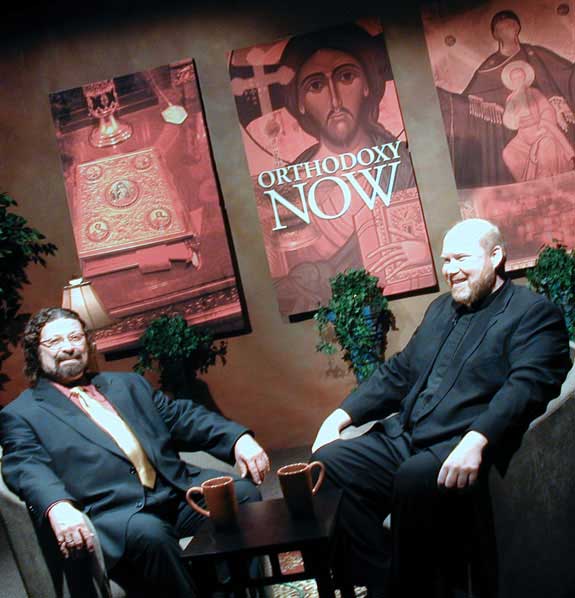 Welcome to Orthodoxy Now, a weekly 30-minute program designed to educate and inform audiences about Orthodox Christianity.
The program premiered on September 18, 2006 on Christian Associates (Channel 95) in the City of Pittsburgh and on Comcast ON DEMAND. Since then, the program has presented thoughful discussions on a wide range of topics of interest to Orthodox Christians, those exploring the Orthodox faith and others.
Kweilin Nassar and John Righetti serve as the program's hosts and interviewers. Father John Abdalah, dean of St. George Orthodox Cathedral in Pittsburgh, also serves as a host and interviewer and is often interviewed himself.
The program is presented on Christian Associates Channel 95 Monday through Friday at 11:30 a.m. and 6:30 p.m. and on Saturdays and Sundays at 2:30 p.m. and 6:30 p.m.
Programs are also available on Comcast ON DEMAND each Monday and a selection of them are available on this web site.
Orthodoxy Now is produced through the efforts of the Orthodox Christian Communications Committee (OCCC), a ministry of the Orthodox Clergy Brotherhood of Greater Pittsburgh.
The Orthodox Clergy Brotherhood of Greater Pittsburgh represents clergy from the Orthodox churches in the tri-state area. The ministries of the Orthodox Clergy Brotherhood include Worship, Charity, Education, Fellowship, Missions, Communications, Singles and Youth Ministries.
TV recording equipment and facilities are generously provided by Christian Associates of Southwestern Pennsylvania. Monica Kao and George Salopek of Christian Associates play key roles in producing the program.
In addition to the hosts, the program is made possible through the involvement of numerous volunteers from churches across the Pittsburgh area. They include Rod Agras, Donna Albert, Sophie Farah, Clement Ferguson, John Fries, Chip Kelsch, John Newell, William Mitas, John Ritter, Jim Statheas, John Trax, Susan Vilushis, Louis Vlahos, George Yamalis, and many others.